Technical video of month by Sensei Ishana Pérez.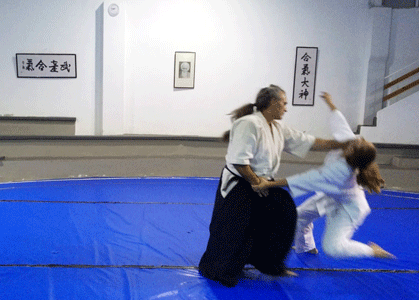 Tenchinage begins to study within our Plan of Estudies Kuubukan in 5th Kyu, see in the following link the technical program for this level:
http://www.dojokuubukan.es/grados_5_kyu.html
We continue to show forms based on the Kashima Shin Ryu, on the work of the Kihon Tachi, in its movement Nº 1, Kesa Giri.
The above can be seen by clicking on the following link:
We continue to drive to Uke in the direction that brings his attack, carrying the arm gripped to the movement to perform the Kesa Giri, which, we use in the ground hand (the bottom one) as imbalance.
In the Hand of the sky (above) we make a variation on the Te Sabaki (work of hands) to attack directly the chin of the partner with the aim of connecting with the center of the Uke (Tanden) and thus break their kamae and perform the projection.
The Ukemi shown is for novice students, Ushiro Ukemi, but can perform ukemi more advanced depending on the experience of Uke.
#AikidoKuubukan / #DojoKuubukan
Tori: Sensei Ishana Pérez.
Uke: Jessica Dudine.
Video: María José Marichal y Jorge González.
Warning:
Performing these exercises without the guidance, instruction, maturation and proper guidance can lead to serious accidents.